Raised beds at the Son­theim campus
with the friend­ly sup­port of AOK-Heilbronn-Franken
With the sup­port of the AOK we from the sus­tain­abil­i­ty depart­ment have start­ed the raised beds project at the Son­theim cam­pus. The goal is of course to grow our own fruits and veg­eta­bles. Under the #gar­den­fri­day we post inter­est­ing arti­cles every Friday:
on the progress of the project
to sea­son­al fruits and vegetables
on pos­i­tive prop­er­ties on the body of var­i­ous fruits and vegetables
on sus­tain­abil­i­ty issues
But you can stay up to date not only on Insta­gram. Also in the newslet­ter and here on this page you can find out every­thing about raised beds, sus­tain­abil­i­ty, fruit and vegetables.
In addi­tion to the #gar­den­fri­day, we have also col­lect­ed con­tri­bu­tions from the AOK on the top­ic of "eat­ing bet­ter". Here you can learn every­thing about nutri­tion and food.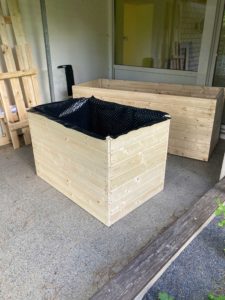 Are you ready for our gar­den project? We need YOUR sup­port! The raised beds and the first seedlings are grad­u­al­ly mak­ing their way around cam­pus. So if you feel like prov­ing your green thumb at the uni­ver­si­ty, feel free to con­tact us by mail at nach­haltigkeit-hn∂vs.hs-heilbronn.de!
Lat­est posts — #gar­den­fri­day
The eye eats with you — that's what they always say when it comes to serv­ing food. That's why more and more often you can find blos­soms on the plates in var­i­ous restau­rants. Edi­ble flow­ers have a wide range of fla­vors, from very Read more